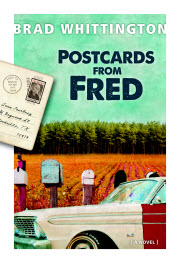 Ever wonder what would Jesus do? On a date?
Itís been a bad weekend. Mark Cloudís dreams of romantic bliss have been cruelly obliterated, and his friendship with the local moonshiner has drawn unwelcome attention from the local Pharisee, Deacon Fry.
Then two girls enter his life: one a lovely and sold-out-for-Jesus preacherís kid who just might be The One for him, the other a prodigal wild-child who just might give Deacon Fry the ammunition he needs to rid himself of this troublesome pastor and his vexing family.
Markís romantic aspirations and his vow to fly under the church-politics radar crash into his vow to live his life asking the seductive but inconvenient question: What Would Jesus Do? His response will determine not only his dating life but possibly the future of his fatherís career.
Postcards from Fred
by Brad Whittington
Wunderfool Press 2013
Paperback
Kindle Nook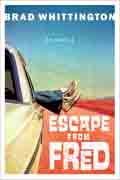 What does a preacherís kid do when the stock answers donít make sense anymore?
Mark Cloud escapes Fred, Texas, to relish the anonymity of college, new friends, and the possibility of romance. But a series of catastrophes forces him home, where everything has changed in the one place where nothing changes. In desperation he bargains with God. When the unthinkable occurs, Mark leaves Fred to escape the questions he can't bear to answer.
He sets out on a solitary pilgrimage, unsure if the road offers enlightenment or oblivion. The path leads him to a childhood friend and their unresolved debate, but now each is arguing for the other side.
Mark suspects he will never truly Escape from Fred without returning to face the answer he fears.
Escape from Fred
by Brad Whittington
Broadman & Holman 2006
Paperback [Signed]
Kindle Nook iBooks

-Cover
-Sample Chapter
-Reviews

What happens when a preacherís kid starts asking dangerous questions?
Mark Cloud is back in Fred, Texas but Fred is not the same and neither is Mark.
What would Jesus do if he was a teenage boy in a hick town? Would he play football and go deer hunting? What if his date humiliated him in front of the school? What if he was confronted with a lonely bootlegger? What if his newest disciple got roaring drunk? What if someone got away with murder?
As his answers lead him further down the path of least expectance, Mark must choose between remaining faithful to his understanding of the gospel or appeasing the prejudices of those with the power to make his family pay for his decisions.
Living with Fred


by Brad Whittington
Broadman & Holman 2005
Paperback [Signed]
Kindle Nook iBooks

-Cover
-Sample Chapter
-Reader Guide [PDF]
-Reviews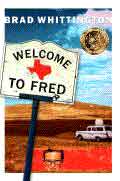 When a Norman Rockwell preacherís kid meets Mark Twainís mysterious stranger, what he does next is anybodyís guess.
Mark Cloud has his doubts. He's not sure if he'll ever feel at home in Fred, Texas. He's not sure that he can work up the nerve to declare his love to the girl of his dreams. He's not sure he will survive another ride with Darnell Ray, Terror of the Back Roads. And he's not really sure he buys the whole God thing. Which is an uncomfortable position for the son of a Baptist preacher.
This award-winning novel is a moving and hilarious tale set against the vibrant backdrop of the 1960s and rural America. It is the timeless and classic story of Everyteen in the hands of a master storyteller.
Welcome to Fred
by Brad Whittington
Broadman & Holman 2003
Paperback [Signed]
Kindle
Nook
iBooks

-Cover
-Sample Chapter
-Reader Guide [PDF]
-Reviews